Manhole Cover Paints Introduction of Materials
MIDORI SHOKAI is a pioneer for paints of colored manholes.
We are the TOP supplier in Japan.
Our annual shipment exceeds 10 tons.(40% share)
Our clients account for 80% of the market share.
No other company can compare.
About Colored Manholes
1980:Custom manhole covers rise in popularity.
1983:Began pertnership with Million Paint and began sales of resin paint
Manhole cards drawn by GKB(Sewerge PR Platform) have became all the rage. As of Nov.2021,the 15th editonhas been released.


Source: Sewerage Public Relations Platform (GKP)
Manhoo! (App to find and share manhole covbers) and various events(Manhole Summit,Manhole Night etc.) have been a big rise in popularity.
Our history with Colored Manholes
2018:Started exporting color manhole paint to S. Korea
2019: Started research on the global market
Our Paints
Our Total Support with 3 types of Paint
Undercoat / EP-80


(2-component

epoxy resin coating)
We apply EP-80 paint to the cast metal after it has been sandblasted.
EP-80 is a two-component epoxy resin coating which adheres very well to the casting.
Adheres excellently with the Tyu-nyu Epo and prevents rust.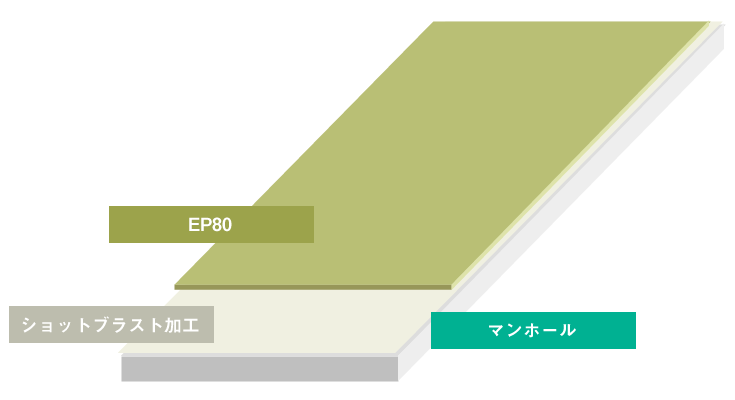 Pouring / Tyu-nyu Epo


(2-component solvent-free

epoxy resin coating)
Tyu-nyu Epo is the main paint that colors the manhole.
Due to its low viscosity, it is easy to stir, has excellent fluidity and workability.
It also is very durable and highly resistant against wear and tear.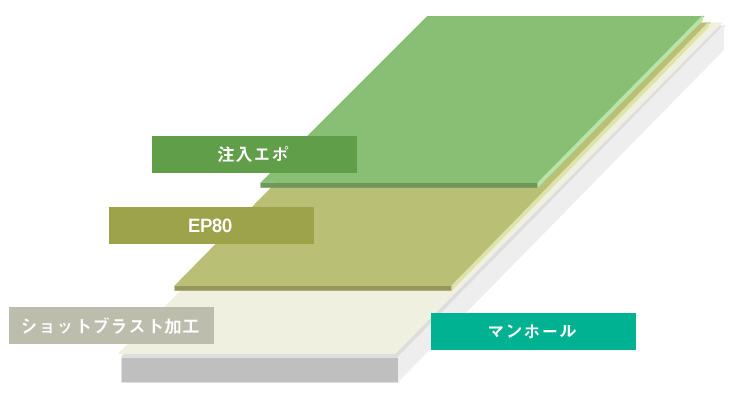 Topcoat / Cho-U UV Cut Clear


(2-component

urethane resin coating)



Cho-U UV Cut Clear is a two-component urethane resin coating.
This coating creates extra protection from UV rays.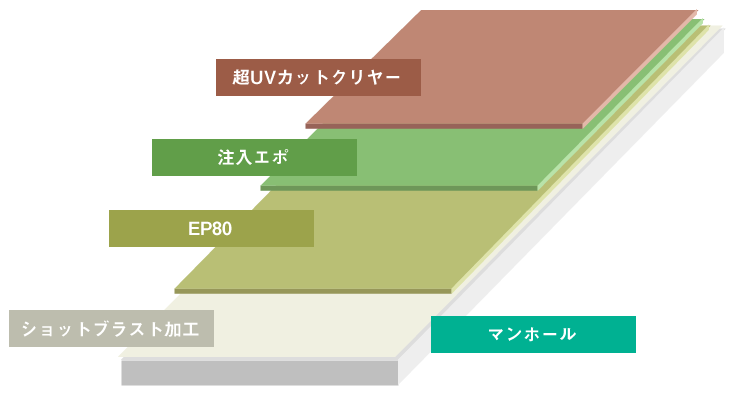 Characteristics of Tyu-nyu Epo
Tyu-nyu Epo is a very important paint for painting manholes,
has many distinct features than compared to other paints and competitors.
①Solvent-free
②Glossy and very durable
③Very low viscosity
④Highly weather resistant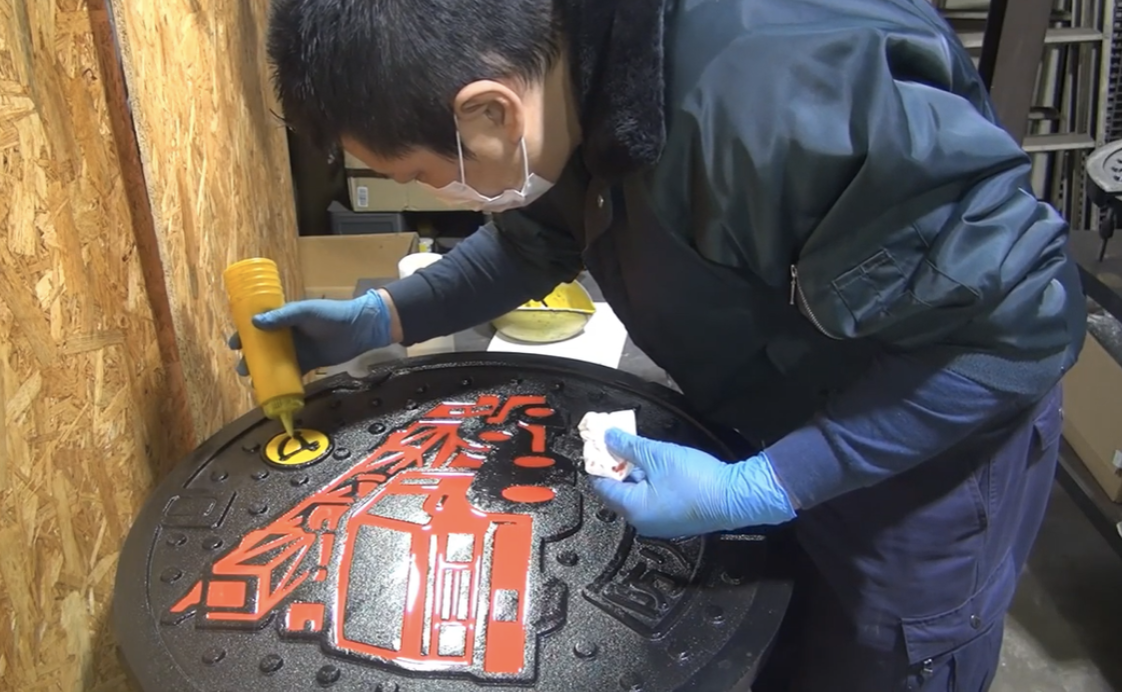 Solvent-free
Normal paints contain organic solvents.Since this paint contains nosolvents,
after curing, the paint's film has a thickness of about 25 to 30μ.
Epoxy Injection is a solvent-free epoxy coating that does not thin outduring curing. 
The thickness will spread evenly across all surfaces.

The finish for the coating film dries very precisely.

Glossy and very durable
This paint is especially made to suit the aesthetics of colored manholes
①Glossiness:Specular reflection at 60°=104%(other paints: 70~90%)
②Abrasion Resistance:Taber CS-17(1kg/1000 Rev.)=90mg
③Impact Resistance:   DuPont (Ф1/2inch×500mg)=50cm
※Please check our website for more information on durability
Very Low Viscosity
Compared to competitors', our paint has very low viscosity

At 20℃: Main agent: 750mPa・s Hardener: 80~mPa・s
(※Competitors:Main agent: 4,500mPa・s Hardener: 450mPa・s)
– Less resin remains in the can
– Easy to mix, less worry to undermix
– Good fluidity and easy to work with, even on fine patterns
– Good defoaming effects for a beautiful finish

Extreme  Weather Resistance
Often installed on sidewalks, colored manholes are exposed to rain, wind, and UV rays. 
Therefore, weather and yellowing resistance are required.
100 hour UV irradiation test with fade meter:ΔE=2.9
※When applying Cho-U UV Cut Clear, the lower the value, the less yellowing
For competitor paints, the amount was 17.9
It has been proven that the combination of epoxy injection and Cho-U UV Cut Clear has high resistance against weather and yellowing
Why Choose Us?
Pioneer Achievements in R&D
1983:Started the development of paint for colored manholes with Million Paint
Through many trials, we have developed the best undercoat paint, pouring paint,
and top coat paint for colored manholes.
It will take competitors more than 10 years to commercialize similar paint.
Large Corporations and Niche Markets
Paints for colored manholes account for less than 1% of the market (30t/y)
Major paint manufacturers do not manufacture in small lots.
They refuse to enter the colored manhole paint market.
Over 500 Color Tones
With Million Paint's color mixing technology,
the epoxy injection is available in over 500 colors.
Small Orders OK
Paint manufacturers usually have minimum order restrictions.
Because Million Paint has a large number of colors on hand,it is possible to purchase paint from just 1 can.
Buy as much as you need, when you need it
Closing
Since working together with Million Paint since 1983,we have maintained the top share of the market in all of Japan.
Through many trials and errors, we were able to acquire expert knowledge to produce the best paints for colored manholes.
For all things about colored manholes you can put your trust in MIDORI SHOKAI.
Colored manholes are a part of Japanese culture.
Let's extend this beautiful art across the globe.